Hotel Introduction
The Great Roots Forestry Spa Resort is located in Sanxia,New Taipei City, Taiwan. In 1922, when Taiwan was under Japanese rule, this place was the Oohyou Tea Factory ran by the Mitsui Koumei Company, producing the renowned "Nittoh Black Tea", the largest tea factory in Southeast Asia. What's more, the travel lodge for the Crown Prince of Japan was established here during the Showa era. After the end of World War II in 1945,this place went through decades of changes in its operating modes from the Taiwan Agricultural and Forestry Company, Haishan Park,Happy Excursion Forest Park etc. and was transformed into the Great Roots Forestry Spa Resort that it is today.

The Great Roots Forestry Spa Resort is a place with magnificent treasures. The area is about 17 hectares and it is the only remaining low altitude sub-tropical pristine rainforest in Taiwan that is more than 300 meters above sea level, which can be regarded as a national treasure.The park has more than 600 kinds of plants and thousands of species of insects. The rich ecological environment includes buttress root plants, giant vines, insects and rare birds, which can be really amazing and holds a highly ornamental and research value. It is a holiday resort comparable to the national nature ecological parks.

In 2001, with the park geological exploration conducted by an international hot springs expert team and a successful Japanese mining company, we excavated the natural pollution-free "sodium bicarbonate salt spring" from 1,530 meters underground.Under strict Japanese national testing and examination, the springs were confirmed to contain 1918 milligrams of rich trace elements and minerals per liter, which about doubled the Japanese national standards and almost quadrupled Taiwan's hot springs standards, making it the best of the springs. The special qualities of the hot springs include beauty cosmetic effects and is able to clarify the skin and activate the skin cells, giving the skin a clean and dewy glow, at the same time improving the conditions of the digestive and nerve systems. Due to the excellent characteristics of the spring water, it is renowned as the "beauty bath".

The Great Roots was not meant for development, the overall development was based on the pristine environment for the plants, insisting in coexisting with nature. We believe that there is life and art everywhere in the forest, and witnessing the self-breakthrough of life which is the real essence that touches people's hearts. Only by fusing your open heart in to the nature, can the affection last.

Within the confines of the resort, you can witness the miracle of nature; experience the beauty of the hot springs spa, and dance together with the forest jumping squirrels, happy singing birds and funny, cute frogs.We anticipate you to be at ease and joyful, just like a child, and we believe that we will be able to bring you amazing and unlimited joy!

Tel:02-2674-9228
Hotel Address:No.79 Cha Jiao, Shan Xia Dist., New Taipei City, Taiwan
Room Introduction
The most open space for sharing little chats with friends and laughter with relatives and inadvertently let the most real emotional outpours for each heart. Guests can stay here and arbitrarily relax under the sunny windows with greenery or sitting or lying, allowing people who want to take a little time-off to rest and enjoy the quiet space.

Guest Room facilities
●Flat-screen LED television.
●Personal bathroom cleaning supplies, hair dryer, towels, bath towels, indoor slippers.
●Kettle, free mineral water, free coffee and tea bags.
●Telephone, electronic safe.
●Automatic air-conditioning temperature control device, refrigerator.
●Hotel brochure, room key.
●Adapter plugs (110V), please contact the counter, if needed.
●Wi-Fi service.
●Free parking for one vehicle.

Caution:
✽Room photos are for reference only, the actual status will depend on the arrangements for the day.
✽Please do not bring pets into the resort.
✽Accommodation time: starting from after 15:00 in the afternoon; check-out time: before 11:00.
✽The above rates include forest park tickets, outdoor hot springs Spa and the rich buffet of combined style breakfast or an American style breakfast.
✽The list of prices is effective starting from January 1, 2016.
✽The above rates are subject to change without notice and shall follow the existing offers of the resort.
✽After confirmation of the restaurant and accommodation reservation, they will be non-refundable on the date.
✽Others from " Luxury Spa Suite" and "Scenic Travel Lodge ", other various types of rooms do not have hot springs facilities inside.
Leisure Facilities
Outdoor Hot Spring SPA
★Weekdays: NT$350 (Adult) / NT$200 (Child)
★NT$450 (Adult) / NT$250 (Child)

●Hot spring composition: Natural Sodium Bicarbonate Salt Springs (Known as the Beauty Bath)
●Instruction:Bathing / immersion
●Hot spring PH scale: Weak base / PH scale of 8.4
●Main functions:Release the pain of neuralgia / muscle pain / arthralgia / frozen shoulder / nerve palsy / sprain / silt bruises / joint stiffness / chronic digestive diseases / iciness / illness recovery / fatigue / health promotion / cuts / burns

★Preferential programs →Day Trip to the Great Roots

*Note
-Opening hour:08:00 to 23:00
-Please enter the outdoor hot spring area no later than 22:30.
-Holidays include Saturday, Sunday & Public holidays.
-Please dress appropriately to use the SPA. Swimsuits and swimming cap are required. Please also bring along your own towels or purchase at our front desk.
-Special offer for group guest (30 people or above).
--
Swimming Pool
The best spot to enjoy your break from the busy city life. Reset yourself in nature.

※This facility is only open for our hotel room guests.
★Swimming Pool surrounded by Palm Trees
A spacious swimming pool by the palm trees, enjoy your private shade by the poolside or have fun with your family here right beside nature.
★Shower Rooms
Shower before you go into the swimming pool. Bath towels, hand towels, and hairdryers are all prepared for you.
★Lockers
Lockers are provided to keep your belongings safe.
Opening hour:
●Summer holiday from June to September
●Monday to Sunday 08:00 to 18:00
(Closed during 12:00 to 13:00)
●Open till 21:00 during July and August (Closed during 12:00 to 13:00 & 18:00 to 19:00)。
Note:
●Located on the 2nd floor of the hotel area on the outer skirt of the courtyard.
●This facility is only open for our hotel room guests. The swimming pool is 120 cm in depth and 50 cm depth in the children's area.
●Closed if encounter typhoons, power outage or any other situations beyond control.
--
Gym
Need a place to work out? We are all prepared for you!

Come visit our gym at the 6th floor of the hotel, there are all kinds of work out equipment which fulfill your need of fitness training.

Opening hour:
Monday to Sunday 07:00~22:30。
Room cards are required to enter the gym. There is no limit on time of stay or number of uses in this area.
--
Outdoor Children's Playground

In our resort, there is also an outdoor playground which provides fun for younger kids.

To care for the safety of our children, we used the high-quality facility in our playground and EVA mat in the area to avoid accidents.
To provide a happy and safe playground, our facilities and equipment are covered with high-density flameproof foam.

Note:
●The location of the playground is in front of the Great Roots bakery.
●Adult supervision is essential for kids under the age of 6.
●Food is not allowed in the playground.
●Height restriction of the playground is 90 to 140 centimeters.

Restaurants
Liyan Chinese Restaurant
Weekdays from NT$6,000 per table
Holidays from NT$7,000 per table.
(to the above price will be added a ten percent service charge)
Bring your own alcoholic drinks: NT$300 wine service fee per table is required

Weekday Opening Hours:
Lunch 11:30 ~ 14:00
Dinner 17:30 ~ 21:00
Holiday Opening Hours:
Lunch 11:30 ~ 14:00
Dinner 17:30 ~ 21:00
--
Crown Prince Restaurant
Weekday from NT$550 / person
Holiday Great Roots Buffet from NT$720 / person
(to the above price is added a ten percent service charge)

Weekdays Opening Hours:
Breakfast 07:00 - 10:00
Lunch 11:00 - 14:00
Dinner 17:00 - 21:00
Holiday Opening Hours:
Breakfast 07:00 - 10:00
Lunch 11:00 - 14:00
Dinner 17:00 - 21:30
--
Self-help Barbecue
Lunch from NT$2,500 / group
(to the above price is added a ten percent service charge)

Dinner from NT$4,000 / group
(to the above price is added a ten percent service charge)

Barbecue Opening hours:
Noon Grill 11:00 - 14:00
Night Grill 17:30 - 21:00

● Barbecue fee per group is for ten people. The set will include ingredients and utensils.
● Barbecue is subject to tickets, please make reservations in advance.
● The park bans fireworks, portable gas cans, firecrackers and other dangerous items, and any related activities using audio equipment.

Directions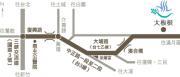 Bus Travel Guide
●Taipei to Sanxia.
✽For National Freeway No.3, Southbound, take the Sanxia Interchange Exit; Northbound, take Sanyin Interchange Exit. Go along Fuxing Rd. and turn right at Zhongzheng Rd., follow the signs after turning.
✽To Dapu and follow the left forward and drive along the Tai 7B Line and you shall be arriving at the Resort in about 15 minutes.
✽Driving from the Great Taipei or north of the Xinzhu area, you will be able to arrive in about 60 minutes.
✽Guests who use GPS can directly search for the "Great Roots" and set it as their destination.

●Taipei Bus line 807 Sanxia to Xiongkong (Chajiao Great Roots stop) departure timetable.
✽Time on weekdays (Monday - Friday)
05:20/07:00/09:30/12:00/15:00/17:30
✽Time on holidays (Saturday-Sunday)
06:00/08:30/11:00/14:30/17:30
✽The arrival schedule when departing from the Great Roots stop to the Sanxia line is the original departure time listed above plus 50 – 60 minutes.
✽The departure time listed above is for reference only, if there is any change, the Taipei Bus version shall prevail, our resort will not carry out any further mendments.

Taxi Transfer Guide
●Taxi service is available to Sanxia, the fee is approximately NT$400(The resort also offers taxi calling service for the return trip)

Limousine Service
●Shuttle car departure schedule (model: Fox Limousine.
✽ Travel route A:(service only provided from 8: 00-17: 00)
Departure from the Great Roots gate to the Banqiao High-speed Rail:NT$300 per person.
Departure from the Banqiao High-speed Rail N-2 Gate to the Great Roots gate: NT$300 per person.

✽ Travel route B:(service only provided from 8: 00-17: 00)
The Great Roots gate to Yongning Exit 2: NT$250 per person.
Yongning Exit 2 to the Great Roots gate: NT$250 per person.
✽ Travel route C
Taoyuan International Airport to the Great Roots: NT$600 per person
The Great Roots to Taoyuan International Airport: NT$600 per person

✽ Caution
*Paid shuttle service exclusive to the tenants. (At least two accommodated guests).
*Guests please make reservations three days prior, until full.
*Not applicable during the Chinese New Year.